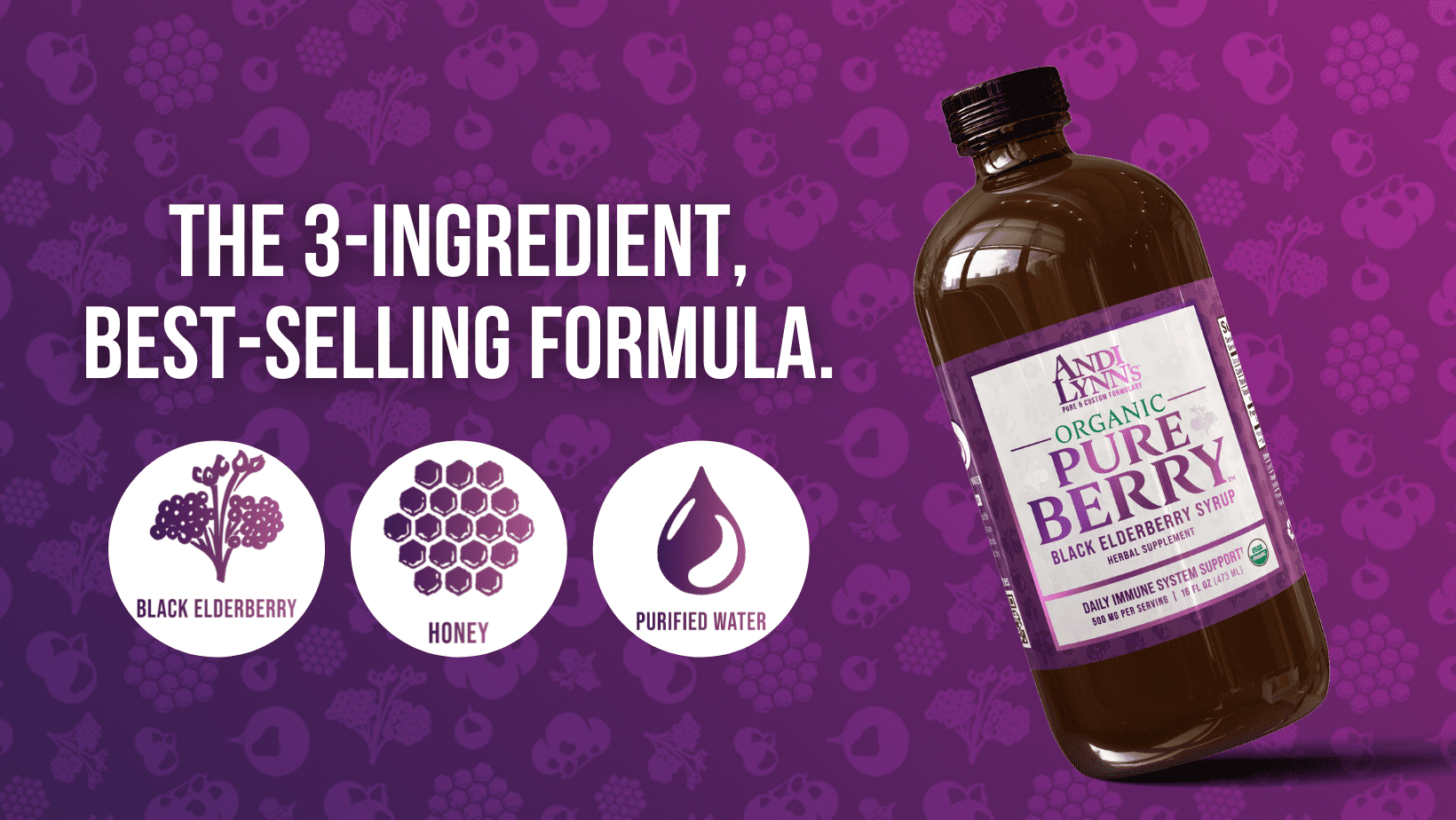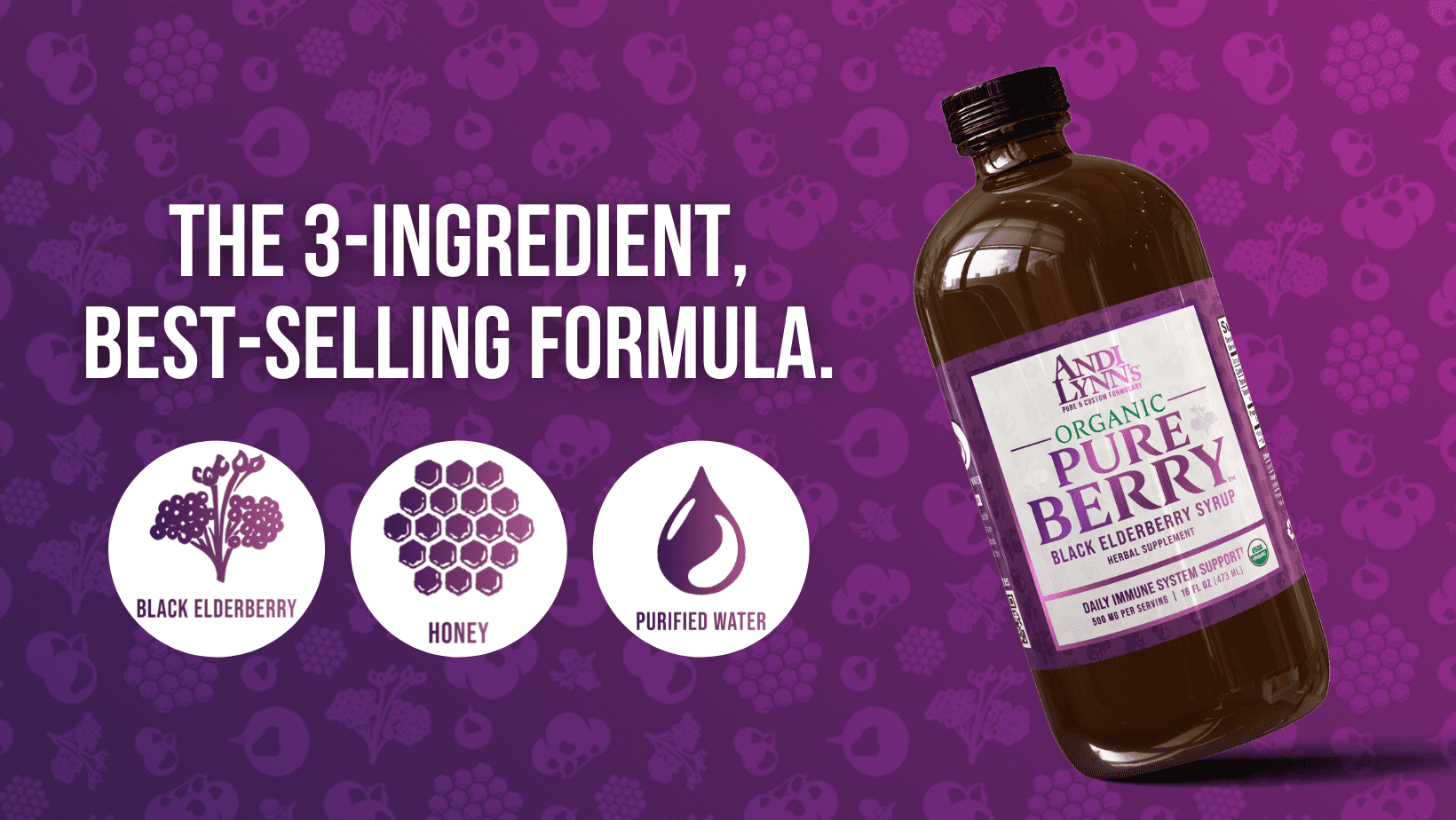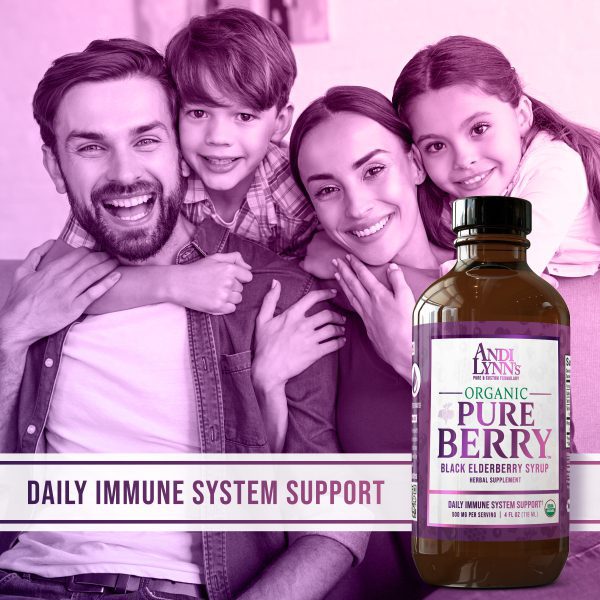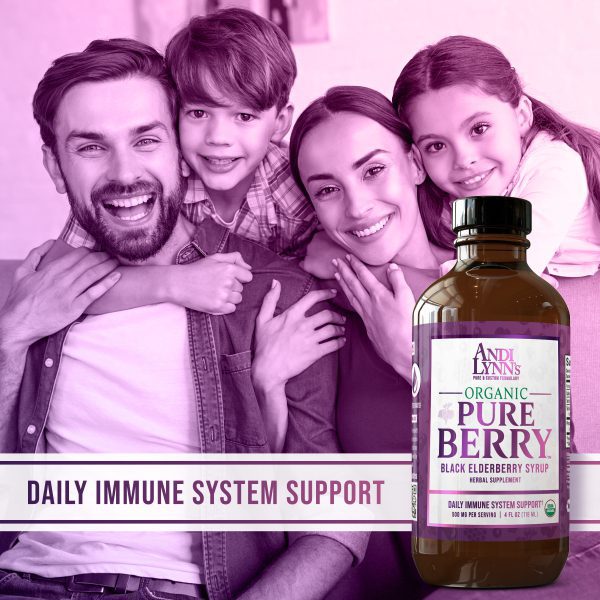 Be fully present in your seat at the table of life.
Here at Andi Lynn's, we know the health and wellbeing of your family is your top priority. It's ours, too. Our mission is to provide safe, effective herbal remedies that build the bridge between Western medicine and traditional plant-based solutions. 
That's why we've created a powerful all-natural, preservative and chemical-free, plant-based immune boosting syrup that tastes delicious and is safe for the whole family to take. 
Andi Lynn's Organic Pure Elderberry Syrup is uniquely formulated to:
✓ Effectively boost your family's immune system to fend off the gunk, funk, and crud,
✓ Give you a boost of natural energy, and
✓ Taste so great, you'll actually want to take it every morning!
We believe in taking an herbal approach to wellness based on a blend of tradition and scientific research. That's why we use three sustainably sourced ingredients in Organic Pure Elderberry Syrup: Black Elderberry, Honey, and Purified Water.
Scroll down for a full description of how Pure Elderberry Syrup works to boost your immune system effectively with natural herbs!
We Only Use These Three Sustainably Sourced Ingredients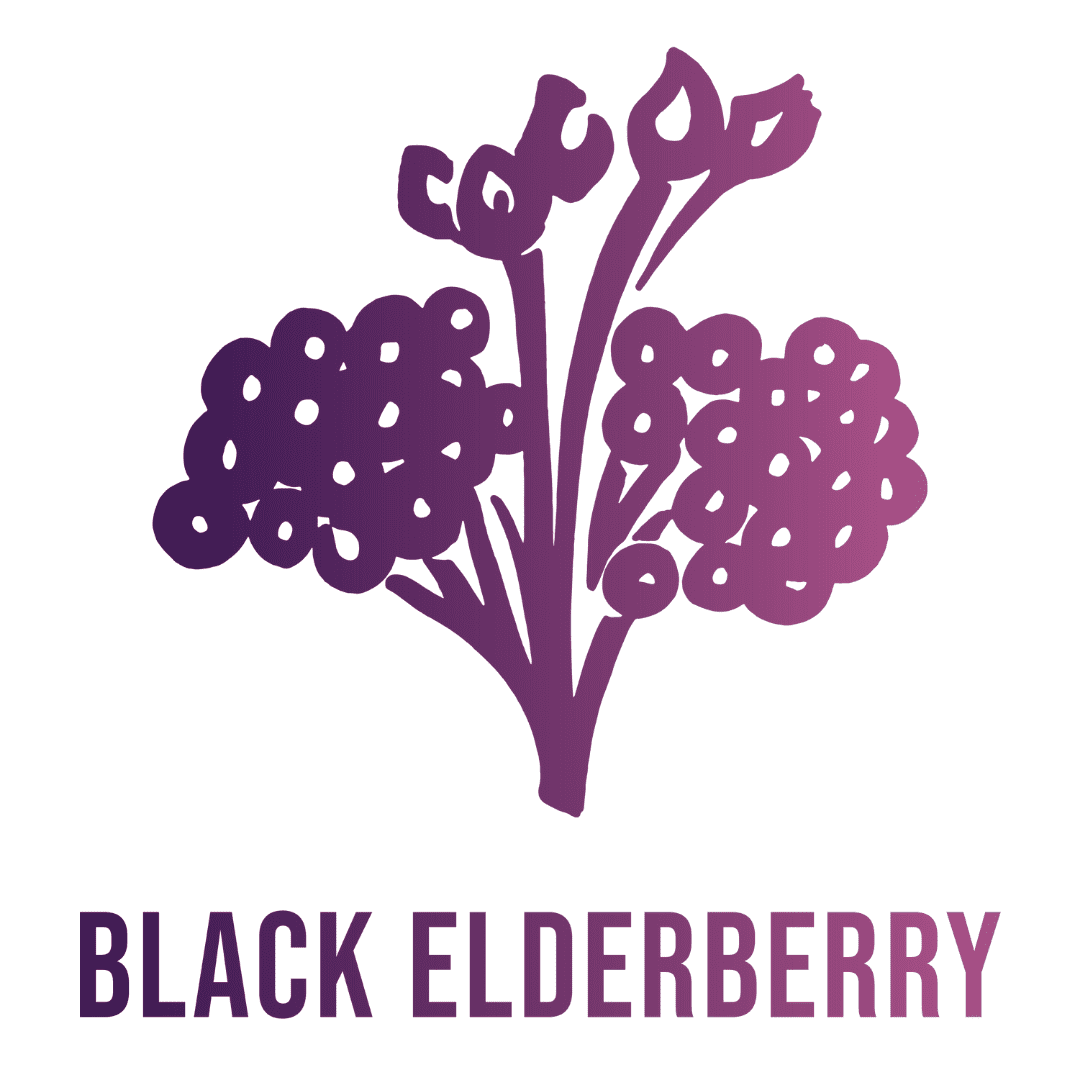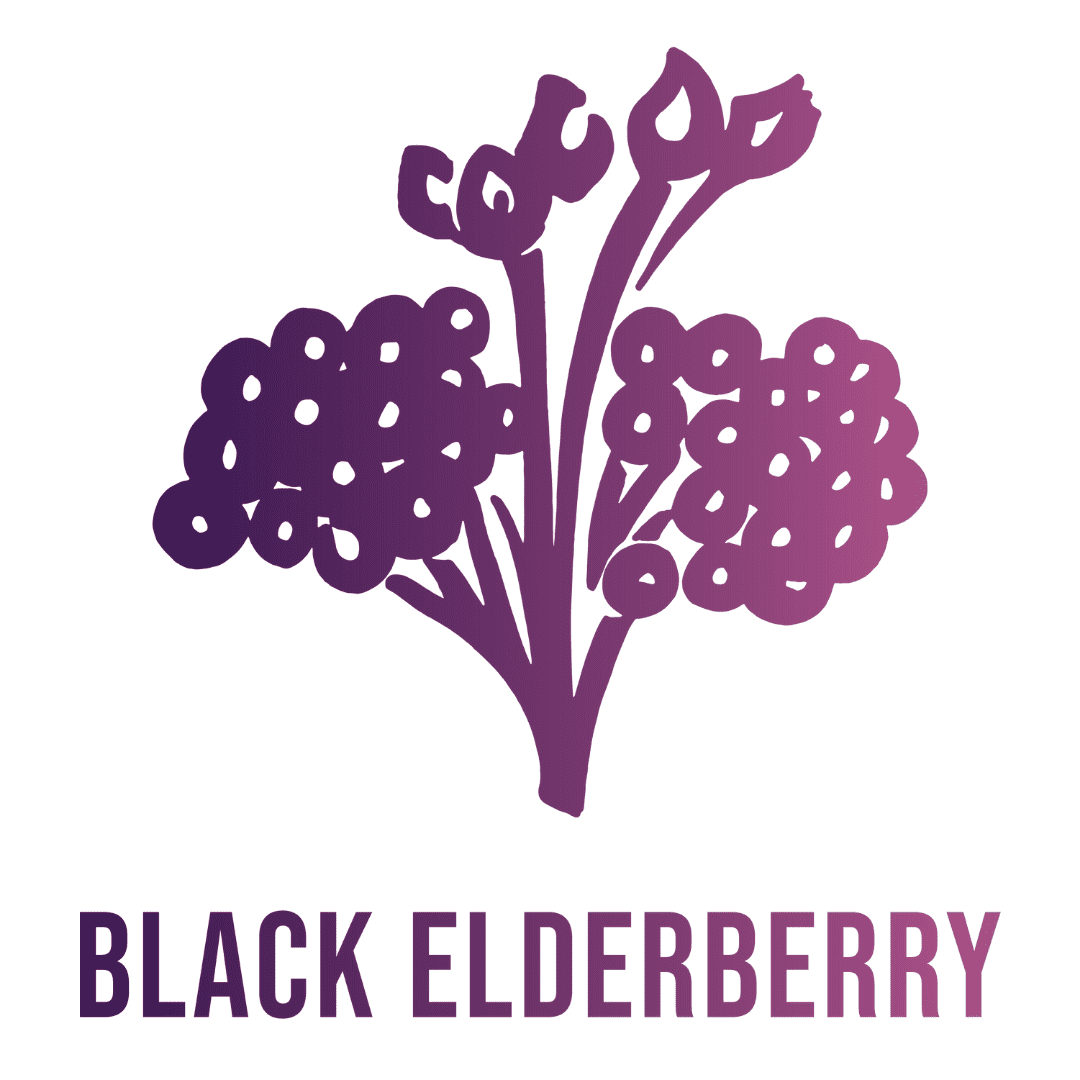 For centuries, Elderberry has been used as a home remedy to boost the immune system and shorten symptoms of illness. Elderberries actively shield cells from common attacks to defend the body's systems and promote faster recovery from symptoms. It was proven that 2,000 mg of elderberry per day reduces flu symptoms from 7 days to 2 days.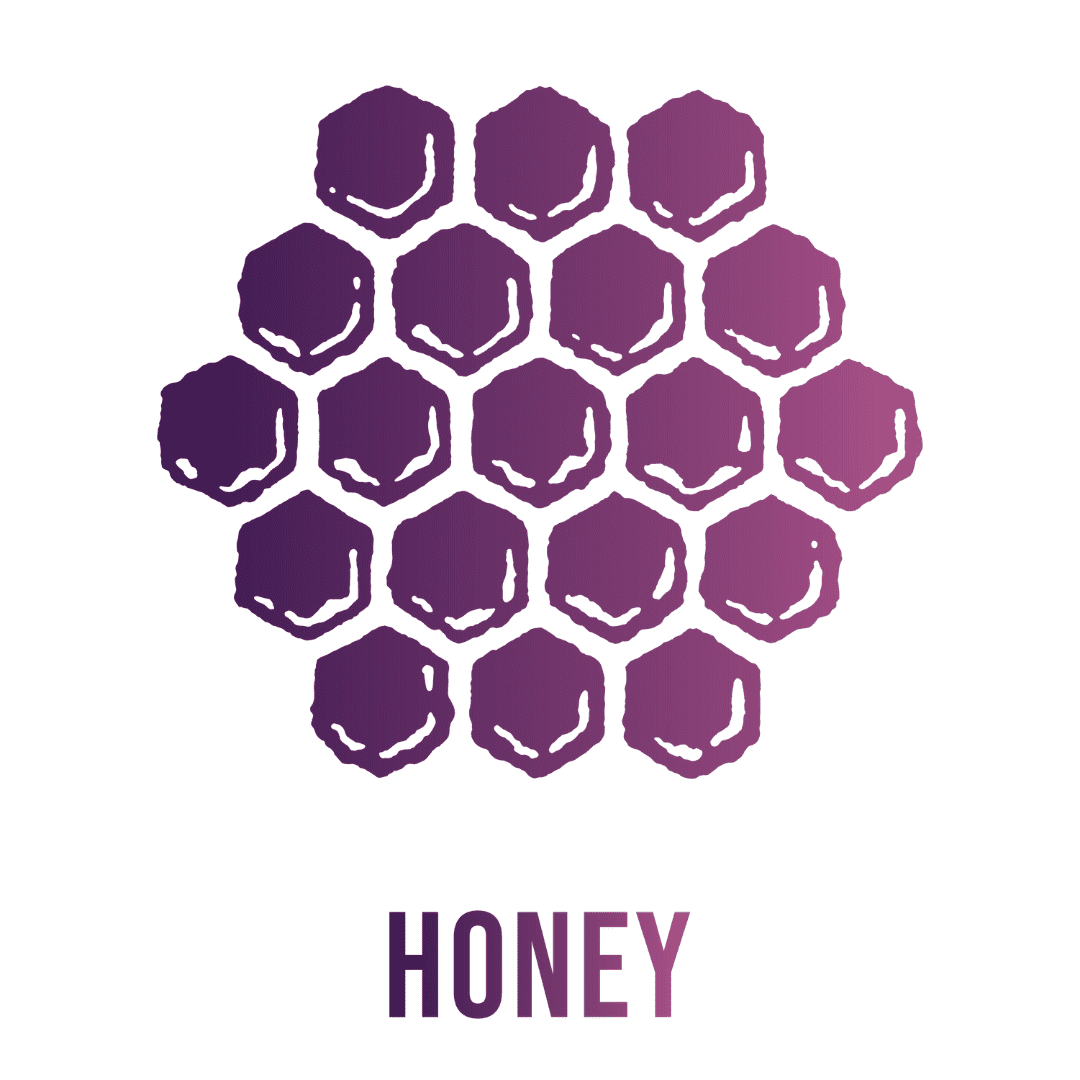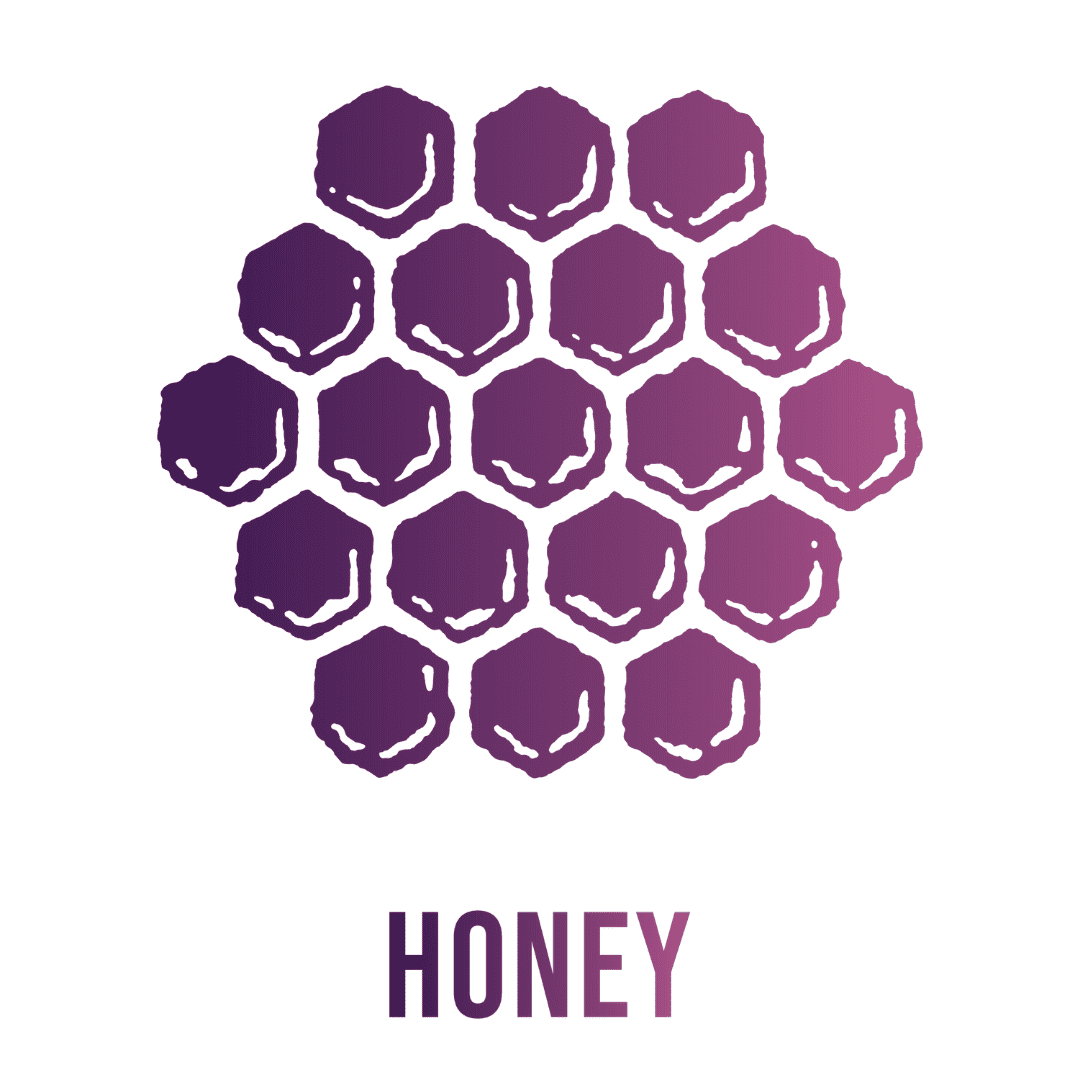 Honey is an incredible antibacterial and anti-inflammatory agent with millennia-long history of use. Honey contains antioxidants and vitamins from the plants and flowers from which it is made by bees. Local honey can also help protect against seasonal allergies stemming from pollen irritation.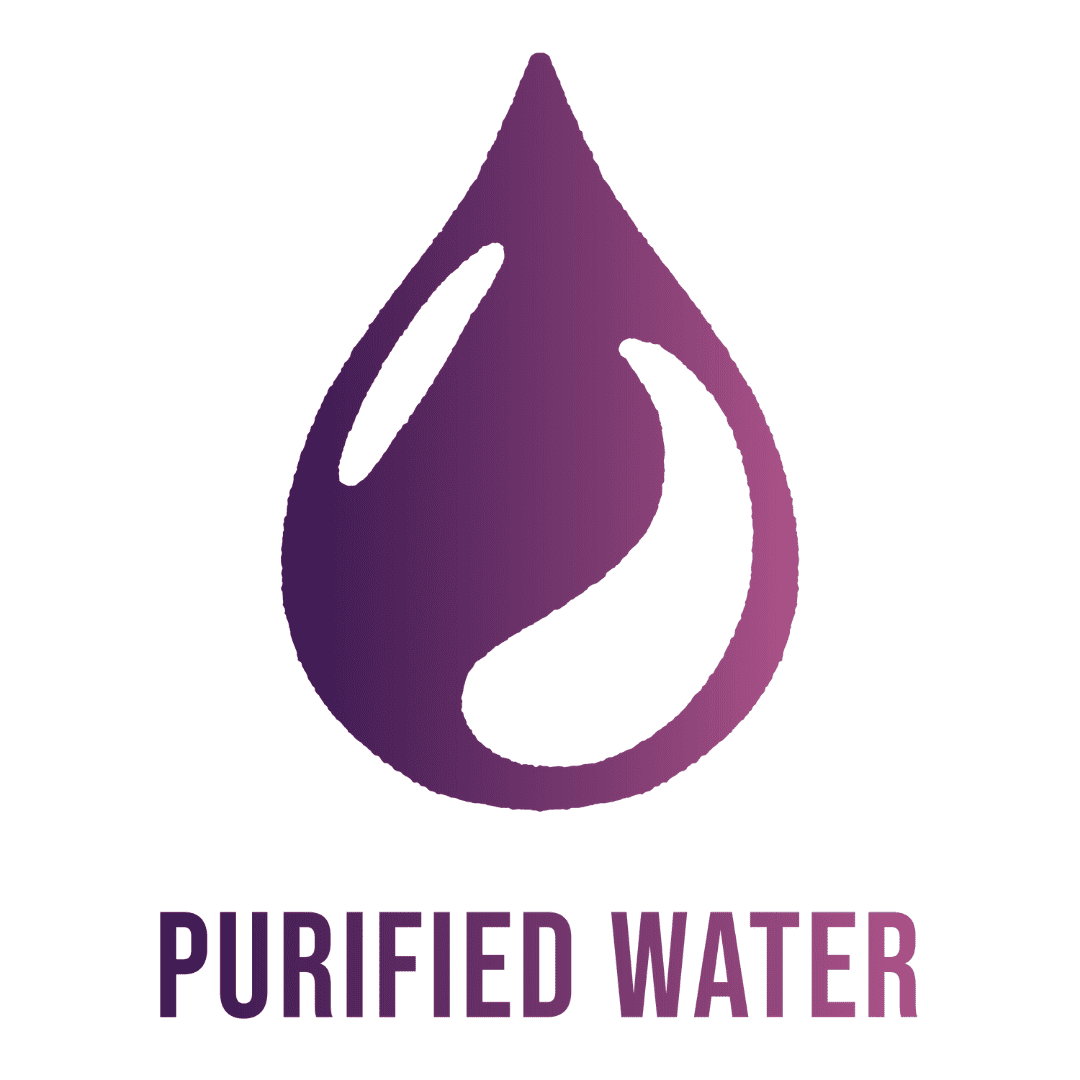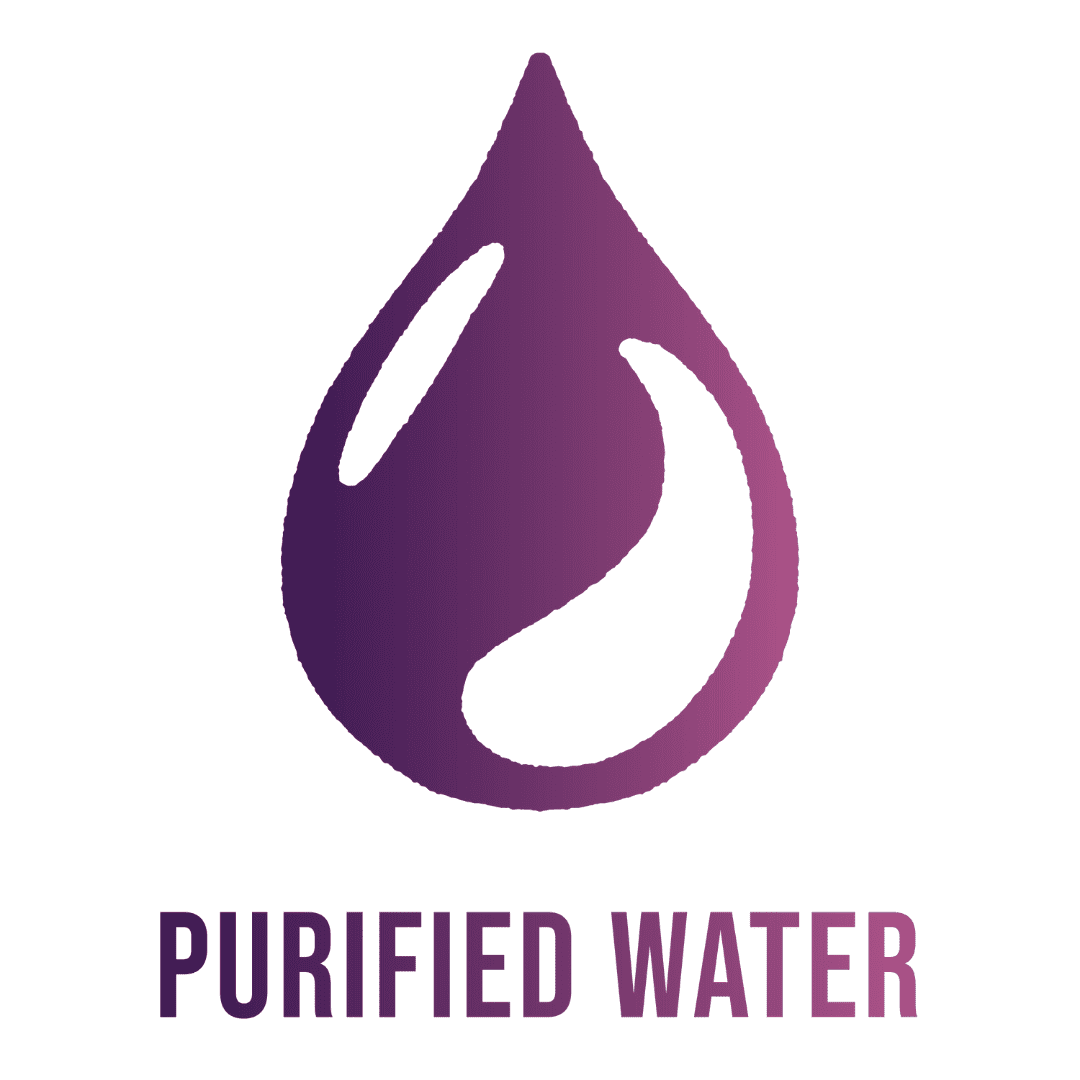 We use deionized, purified water to make our Pure Elderberry Syrup to ensure that the integrity of the syrup is not compromised and that it doesn't contain any harmful pesticides or chemicals.
Have you ever read the nutrition facts label on common drugstore elderberry syrup?
More than likely, the first ingredient you see is high fructose corn syrup or aspartame, in the case of sugar-free syrups. These chemicals have long-term negative effects on the body, including increased weight gain and the potential for diabetes. We have to do better for our kids. 
Pure Elderberry Syrup doesn't leave anything on the table. We put only the highest quality ingredients in every bottle to give your family high quality, therapeutic immune support.
We've decided to make Pure Elderberry Syrup the traditional way. This is a gold-standard, USDA Certified Organic formula with no added flavors or preservatives. We recommend using this at the first sign of symptoms or at the first sign of exposure to common attacks to the immune system.
You can use Pure Elderberry Syrup every day – these ingredients are high potency, high quality, and and are safe, gentle, and effective…and it tastes delicious!
Andi Lynn's Organic Pure Elderberry Syrup can be taken straight off the spoon, or mixed into breakfast smoothies, popsicles, mocktails or your child's morning juice.
What Our Customers Are Saying
Very pleased with the quality, the price and especially the product being local to this area!
AL is our go to for the different varieties of elderberry! We love all of the products we have tried. My kids ask for "purple drink" all the time.
Andi Lynn's is the first elderberry syrup I ever used. I like the taste and I like knowing that it is all natural with pure ingredients. The fact that Andi Lynn's is sold in several different retails is helpful for me to purchase it. Not only do I love it but my husband and kids do too!
I love that it is locally made in Louisiana. They are organic products. The taste is wonderful. The shipping is quick. I will not order elsewhere. Totally satisfied. I do feel that it boosts my immune system.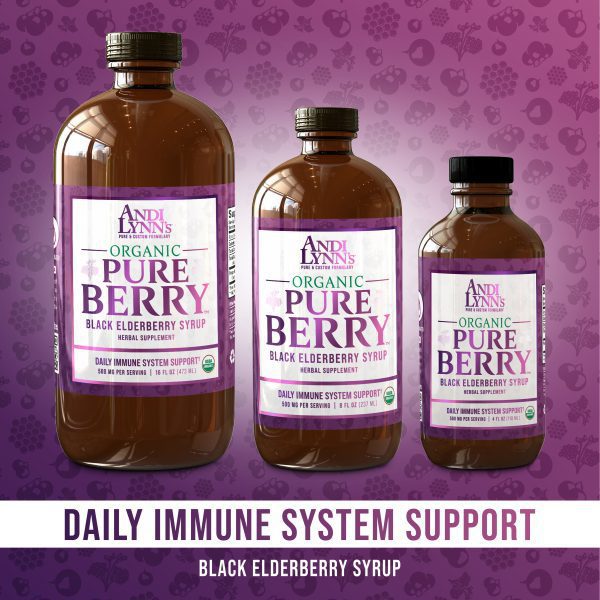 We know introducing natural healing herbs into your life can be confusing.
It can be devastating to not know which products are the best choice for your family. All of us at Andi Lynn's have been in your shoes. That's why we've worked tirelessly to handcraft quality herbal remedies with only the best ingredients that are proven to deliver effective results. We simplify the decision-making process by providing a short list of ingredients –  black elderberry, honey, and filtered water.
Andi Lynn's Organic Pure Elderberry Syrup also tastes delicious, unlike some of the drugstore immune boosting supplements (chewable tablets taste like chalk!). You can drink it straight off the spoon, or mixed into their favorite morning smoothies.
Additionally, Pure Elderberry is safe for infants, pregnant and nursing women, and the elderly.
Join us as we build the bridge between conventional Western medicine and traditional plant-based solutions! You can feel confident giving this product to your family, and know that they will be protected from whatever life throws at them after one spoonful.
Save 20% on every purchase when you subscribe for monthly deliveries of Andi Lynn's Pure Elderberry Syrup!
From $17.99 ea.
Sign up for email notifications to get 50% off your first subscription purchase!