Molly Kimball is a powerhouse in the region's health and fitness culture.
The blonde, energetic Sports and Lifestyle Dietitian spends her time between Baton Rouge and New Orleans, providing professional guidance to the cities as the Nutrition Program Manager of the Ochsner Fitness Center.
As the founder of Ochner Eat Fit, Kimball keeps an eye out for the latest fitness and healthy eating trends, and provides guidance via a weekly column in the NOLA.com|The Times-Picayune, and a weekly segment on WGNO's Good Morning New Orleans, Get the Skinny with Molly
With all that in mind, we can't even begin to say how delighted we were when she first popped up as an Andi Lynn's Pure & Custom Formulary fan! Since finding our Fire Louisiana Raw Apple Cider Tonic, Kimball has been spreading the good word about it's taste and use through every channel.
She featured our tonic recently in a "Fire Tonic Virgin Mary" recipe in her weekly Times-Picayune column. We recently gabbed with Kimball to get her take on this Andi Lynn's offering.
AL: How did you find out about Andi Lynn's?
MK: Through our Eat Fit BR team.
AL: What attracted you to the products, professionally?  
MK: I love that Andi Lynn's Fire Tonic combines the health benefits of apple cider vinegar with herbs and spices that not only boost the flavor, but help boost the overall immune system and whole-body wellness, as well.
AL: How did you develop this virgin recipe? What inspired you?  
MK: We (our Ochsner team) developed this as a mocktail alternative for our #AlcoholFreeFor40 Challenge.
Recipe:
Andi Lynn's Fire Tonic Virgin Mary
Makes 1 serving
2 tablespoons Andi Lynn's Fire Raw Apple Cider Tonic
4 ounces low-sodium tomato juice
1 teaspoon Tabasco
1/4 teaspoon Worcestershire sauce
1 tablespoon horseradish
Half a lime, juiced
Dash of black pepper
For garnish, any combination of lime or lemon wedges, peppers, and fresh herbs
Combine all ingredients except garnish in a glass or cocktail mixer with a handful of ice cubes. Shake or stir to mix. Garnish with lime or lemon wedge, peppers and fresh herbs, and serve.
Per serving: 35 calories, 110 mg sodium, 9 grams carbohydrate, 1 gram fiber, 6 grams sugar (0 added sugar), 0 protein.
AL: Do you have any recommended pairings with the virgin recipe?
MK: Anything! It's a great brunch drink, and also good for game days.
AL: What local resources can you recommend for people looking to develop a healthier lifestyle?  
MK: The Eat Fit Smartphone App – you can download hundreds of recipes! You can also find Eat Fit participating restaurants near you, along with full nutrition facts of all Eat Fit dishes, upcoming community events, and connect directly with health professionals.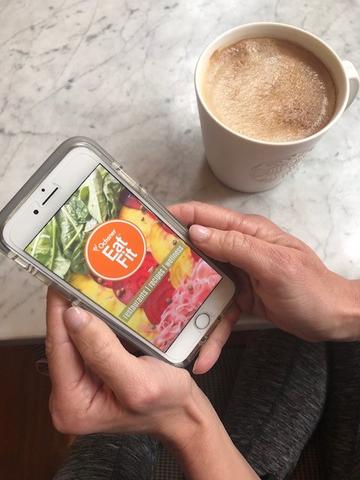 AL: Any upcoming events you would like to share with our audience?
MK: The French Quarter Festivals, Inc.! There will be nearly 20 vendors present that have the Eat Fit seal of approval on their menu boards.
Also, August 22nd marks our "Dine Out Day", which is our annual fundraiser where we ask restaurants to donate a percentage of their proceeds to directly support the nonprofit, Eat Fit initiative. (See The Times-Picayune's 2017 coverage of the event here.)
If you're interested in keeping up with Kimball's work outside of this blog post, you can follow her via her social media pages with the information below:
Facebook: @mollykimballRD, @EatFitNOLA, @EatFitBR, @EatFitAcadiana
Instagram: @EatFitNOLA, @EatFitBR, @EatFitAcadiana, @mollykimballRD
LinkedIn: https://www.linkedin.com/in/molly-kimball-1933325/
Website: www.MollyKimball.com
Bio: Molly Kimball, RD, CSSD is a Sports and Lifestyle Dietitian, Board Certified as a Specialist in Sports Dietetics by the American Dietetic Association.  She manages the nutrition program at Ochsner Fitness Center in New Orleans and is the founder of Ochsner Eat Fit, a nonprofit initiative of Ochsner Health System.
The Eat Fit Mission is to make the healthy choice the easy choice, with the Eat Fit team of dietitians collaborating with local restaurant owners and chefs, as well as corner markets, event venues, and other foodservice establishments to identify or develop dishes that meet the Eat Fit nutritional criteria.
As a Sports Dietitian, Molly has worked with hundreds of athletes, both amateur and professional, including players in the NFL, MLB, and NBA, as well as soccer players and professional boxers.
Molly often serves as a spokesperson at various events and is featured regularly as a nutritional expert on local and national news stories.  She has been featured in national media outlets including Vogue, The New York Times, Newsweek, Shape, Health, Fitness, Runner's World, Wine Enthusiast, Cosmopolitan, WebMD and CNN.com.
Need a little inspiration to compliment your Andi Lynn's Fire Tonic Virgin Mary?
Don't worry, we've got your go-to recipe! Chef Jacob Seemann's cocktail sauce adds a tangy note to our drink.
Cocktail Sauce
1 cup organic ketchup
1 tbsp horseradish
2 tbsp Andi Lynn's Fire Louisiana Raw Apple Cider Tonic
2 tsp vegan Worcestershire sauce
1 tsp lemon juice
1 tsp black pepper
Mix all ingredients together. Serve with shrimp.
Also, to all of our dear readers: please tag us in any and all of your Andi Lynn's recipes on social media!
We love to repost and credit our fan's health-based masterpieces!
Related Links:
http://www.nola.com/food/index.ssf/2018/02/andi_lynns_fire_tonic_virgin_m.html
http://www.nola.com/healthy-eating/2018/01/partied_too_hard_these_3_drink.html