We can all agree a Bloody Mary is one of the most perfect Sunday Funday staples out there! But did you know the generic Bloody Mary mix you buy off the shelf is loaded with over 600 mg of sodium and full MSG?
No worries though! We partnered with Eat Fit BR to create a Raw Apple Cider Tonic Virgin Bloody Mary that's not only good for you, but delicious, too! You'll never even miss the booze!
This fun cocktail is only 35 calories and only 110 mg of sodium! The drink is completely clean and fresh with NO MSG.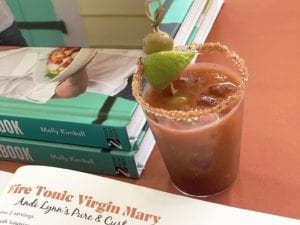 INGREDIENTS:
4 ounces low-sodium tomato juice
1 teaspoon Tabasco
1/4 teaspoon Worcestershire sauce
1 tablespoon horseradish
Half a lime, juiced
Dash of black pepper
1 TBSP Andi Lynn's FIRE Raw Apple Cider Tonic
DIRECTIONS:
Combine all ingredients except garnish in a glass or cocktail mixer with a handful of ice cubes. Shake or stir to mix. Garnish with lime or lemon wedge, peppers and fresh herbs, and serve.
SHOP ANDI LYNN'S FIRE RAW APPLE CIDER TONIC
SUBSCRIBE AND SAVE 10%