With heatwaves scorching America (and Europe!) this summer, how are you staying cool? Are you drinking water? Staying indoors? Visiting rehydration clinics?
Scrolling through social media, we've seen a ton of recipes for summertime cocktails – but did you know that when it's hot outside, alcohol actually dehydrates you further? Common summer beverages we keep seeing include mojitos, sangria, and margaritas. We're big fans of cooling off and enjoying the outdoors, and believe the best way to enjoy summer is to do so in a way that isn't detrimental to your body's ability to function – by making mocktails.
What is a mocktail drink?
Mocktails, which are "virgin" versions of your favorite cocktails, are a delicious way to keep cool, enjoy the season, and even boost your health. A lot of our customers have told us that their favorite way to consume Andi Lynn's herbal tonics and syrups is to use them in cocktails. While we think this is great (a vodka lemonade with elderberry syrup tastes amazing), we want to challenge you to get a little more creative with your drinks this season. To help you out, here are eight of our absolute favorite mocktail recipes, with links of where to purchase some of the niche zero-proof ingredients.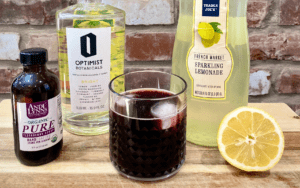 Elderberry Lemon Spritz Mocktail
If you love vodka lemonades, the Elderberry Lemon Spritz is for you. Tart and sweet (and immune-boosting!), this mocktail is best enjoyed while lounging by a pool.
Ingredients:
Directions:
Add Optimist Bright, Pure Elderberry Syrup, and lemon juice to a cocktail shaker with ice. Shake thoroughly and strain into a glass. Top with sparkling lemonade and enjoy!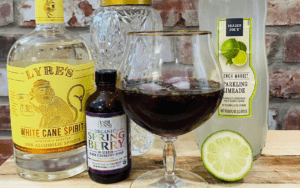 SpringBerry Mojito Mocktail
Of all the summer mocktails, SpringBerry Mojito Mocktails are probably our favorite. Mojitos are easy to translate into mocktail form – and we like to add our own little twist to this classic recipe by adding our SpringBerry sinus support syrup.
Ingredients:
Directions:
Add Lyre's White Cane Spirit, SpringBerry Syrup, and lime juice to a cocktail shaker with ice. Shake thoroughly and strain into a glass. Top with sparkling limeade and enjoy this refreshing summer mocktail!

Tequila Sort-Of Sunrise Mocktail
We've given this classic beachside favorite a summer mocktail makeover with our Tequila Sort-Of Sunrise. Celebrate a perfect day on the beach with this zero-proof twist on a tropical treat.
Ingredients:
Juice of 1/2 a lime
Frozen whole pitted cherries
Orange juice
Ice
Directions:
Shake lime juice, zero-proof tequila, and Bronchia Calm in a cocktail shaker. Strain into a glass and top with orange juice, ice, and cherries. Enjoy your mocktail!

Elderflower Immunity Spritz Mocktail
Elderflower is an herb that has an abundance of immune-boosting health properties. It is also a "cooling" herb that has been shown to increase sweating to cool the body off. But when you're losing sweat, you're losing water – that's where the Elderflower Immunity Spritz mocktail comes in to boost hydration!
Ingredients:
Directions:
Shake rose lemonade, elderberry syrup, and immune tincture in a cocktail shaker. Strain into a glass and top with lemon soda and ice.

Elderberry Ginger Mule Mocktail
This super simple tangy treat tastes great with your favorite kettle chips – or a salad if you want to be really healthy. The Elderberry Ginger Mule is our herbal mocktail drink recipe twist on the Moscow Mule.
Ingredients:
Juice of 1/2 a lime
1 Tbsp Pure Elderberry Syrup
Ginger flavored soda water
Ice
Directions:
Add lime juice, pure elderberry syrup, and ice to a mule cup. Top with ginger flavored soda water and enjoy your mocktail!

Summertime SpringBerry Sangria Mocktail
This juicy, fruity mocktail recipe is a drink you can eat! Here's a basic recipe, but feel free to change up the ingredients however you think will taste best. A big pitcher of this summertime mocktail is best enjoyed with friends!
Ingredients:
Assorted fruit – we used lime, pineapple, strawberries, kiwi, lemon, cherries, and blueberries
Mint leaves
2 tablespoons SpringBerry syrup
1/4 cup honey
Ice
Sparkling elderflower tonic water
Directions:
Add fruit and muddled mint into a pitcher. Top with syrup, honey, and tonic water. Drink this mocktail with your friends over lunch!

SpringBerry Cane Collins Mocktail
Our mocktail version of a summertime classic cocktail, the Rum Collins, also helps open up your sinuses if you struggle with seasonal sniffles. Help your nose and cool off with this mocktail drink recipe!
Ingredients:
Juice of 1/2 a lemon
1 oz simple syrup
1/2 oz SpringBerry syrup
Perrier soda water
Ice
Directions:
Combine ice, Lyre's White Cane Spirit, lemon juice, simple syrup, and SpringBerry syrup in a cocktail shaker and shake. Pour into a glass and top with Perrier soda water.

Fruity Fake Frosé Mocktail
Often enjoyed at boozy brunches, the Frosé is a summer favorite. However, if you're looking for a drink that's not boozy but just as sweet, try our twist on the recipe as a mocktail.
Ingredients:
A couple of handfuls of frozen strawberries & frozen mango
2 oz. Andi Lynn's LittleBerry Kid's Immune Support Syrup
Splash of Simply Lemonade with Raspberry
Splash of Welch's Sparkling Non-Alcoholic Rosé
Ice
Directions: Add fruit, LittleBerry syrup, lemonade, non-alcoholic rosé, and ice to a blender. Blend well and serve!
We hope you enjoy some of these healthy herbal summertime mocktails to drink on a hot day this season. Let us know which one is your favorite by tagging us @AndiLynns2011 on our social media channels!