Bees are one of the most important pollinators that our world has today, which is why I love to support my local apiaries. They provide our honey bees with a safe space to thrive and pollinate crops, which is essential to everyone — even if you don't realize it.
Bee-keepers are keeping the world turning because when we're caring for the bees, we're also caring for the future of our planet.
The bee population is extremely precious.
So when we're supporting our local apiaries, we're also supporting the health and wellness of the bees that are in our local area. And in turn, they pollinate a third of all the plants and food that we eat in order to survive.
Today, I want to highlight a couple of our local Baton Rouge-area apiaries that help to ensure the protection and future of the bees.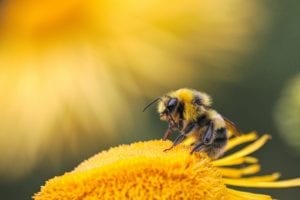 BEE PURE APIARY
In 2017, Alison Landry and her daughter Robin Fontaine founded Bee Pure Apiary in Port Allen, Louisiana and began their mission to produce raw honey and create all-natural skincare products.
Bee Pure Apiary is all female-owned and they ironically only keep female bees on their farm which is one thing I love about this place!
They focus on creating alternative products by incorporating beeswax and honey into everything they create. In doing this, they are able to bring forth an organic treatment for your skin while also focusing on the main goal– saving the bees!
Visit their website here.
BASIC BEE
Basic Bee is a Baton Rouge-owned business whose honey bees produced over 420 lbs of honey last year. WOW!
They are a family-owned bee farm that creates numerous all-natural products including honey cubes, bourbon honey and even a "Hot Honey" which, if you're from Louisiana, could make the perfect spicy addition to your meal!
Basic Bee takes pride in the quality and integrity of their products. They also value the mission of ensuring the safety and well-being of their honey bees and those around the world.
Visit their website here.
O'NEILL'S APIARY
O'neill's Apiary is located in Denham Springs, Louisiana. They create honey and all-natural skin care products, all sourced directly from their bees.
They are a family-run business who tend to around 400 hives year-round.
I love O'neill's because they make it clear that they only package their own pure, raw and local honey.
Although a local business, O'neill's has made a nationwide reach, being applauded by customers from places as far as Washington and Tennessee.
Visit their website here.
SUPPORT LOCAL BEEKEEPERS
Not only do bees contribute to beneficial products like the ones these local businesses supply, but bees are also an essential part of our environment.
Without the bees' pollination, we could potentially lose the ability to grow and consume crops.
Beekeepers are such a valuable part of our society because they work to ensure the safety and protection of our local bees.
Help me in supporting our local beekeepers!
As some of you may already know, bees are becoming an endangered species which is something that we simply cannot afford. To learn a few ways that you can help to save the bees, click here.