You may have a goal in mind for your health or some things you want to change to improve the quality of your life.
Maybe you want to have more energy, maybe you're looking to relax, maybe mental clarity and focus is your goal. Maybe you simply want to live a long and vibrant life. Hitting these goals requires a little bit of effort on your part. The good news is you can use herbs!
You don't have to ask someone's permission to start using plants to improve your health. We believe that plant medicine is the people's medicine. Our mission is to make plant medicine as accessible as possible, and aid you in making it as easy as possible to allow medicinal herbs to become part of your everyday routine and improve your health.
There are many ways to get to know herbs. As an herbalist, I choose to experience the medicinal power of plants on a daily basis. I grow vegetables and culinary herbs in our family's garden, I tincture herbs to preserve them as concentrated remedies, and I squirt herbal extracts under my tongue through the day. But my favorite way to experience herbs is to make myself a cup of tea.
Brianna Weist says that self care isn't about bubble baths and chocolate cake, it's about building a life that you don't regularly want to escape from.  David Allen from Getting Things Done says, "Our lives are not defined by the pinnacle of our achievements, but by the little things we do every day."
According to Atomic Habits author James Clear, the seed of every habit is a single time decision.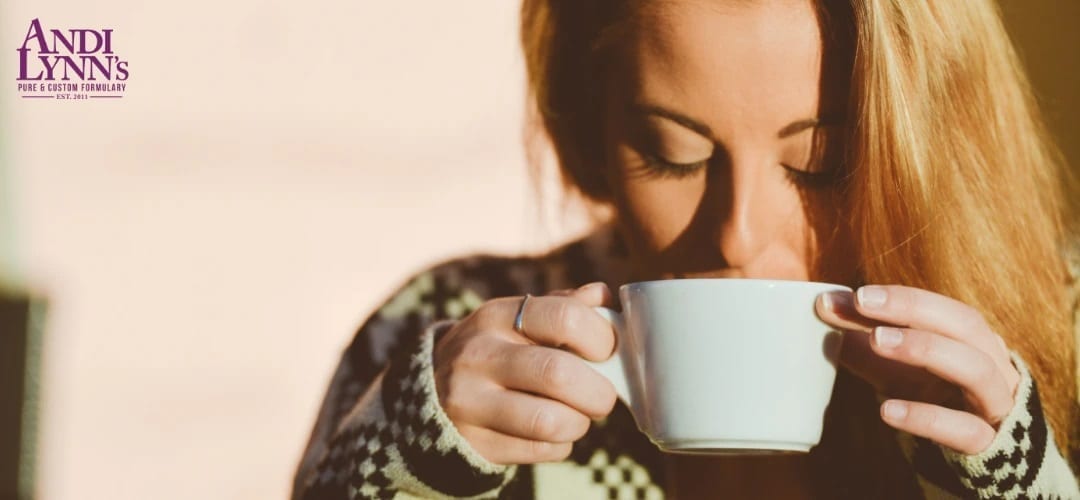 The Ritual
1) Choose your herbs (or use what you have on hand and rediscover) and your favorite Mug
2) Set a time in the day when you realize you need a 15 min reset.
3)Put the Kettle on – a whistle helps because it acts as an alarm, you HAVE TO walk away from whatever you are doing to pull it off the heat.
4) Set another alarm- timer for 3-5 mins or recommended steep time.
5) Bring your cup to a separate space – just for tea – maybe it's in front of a window, outside on the porch, even in your car would work.
Sip and immerse yourself in the moment, the flavor, and the comfort of a warm (or cold in the summer) delicious treat.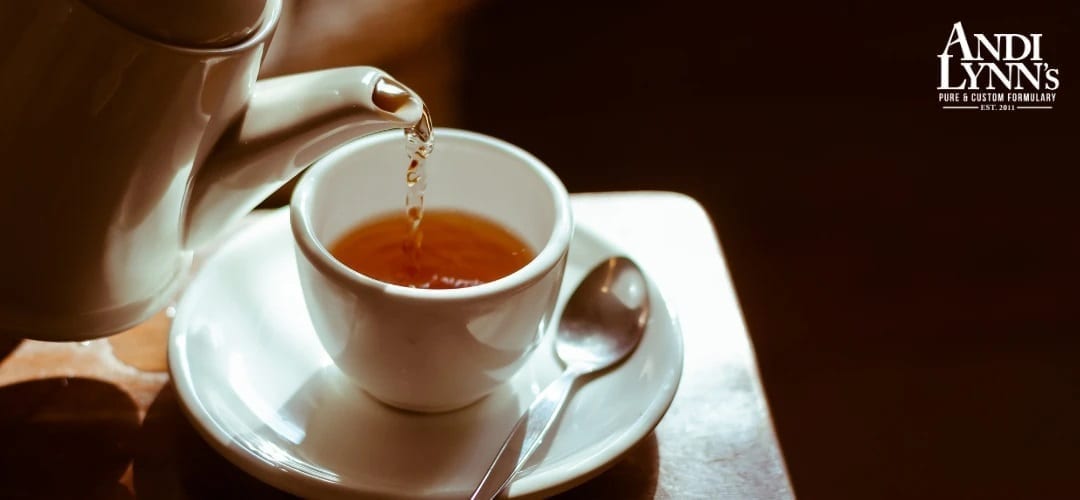 Types of tea to try:
Chai: Aids digestion and soothes queasy stomach (ginger), warming & increases micro circulation (cinnamon), antioxidant (anti aging) black tea. Add collagen and cream for a hunger buster snack replacement.

NORA Tea: High in bioavailable minerals (nettle), soothes nerves and brings a sense of calm (lemon balm and Oatstraw), tones uterus making it strong and ready to birth (red raspberry leaf). Can be made as an infusion.
Sleepytime Tea: Deepens sleep (Passionflower), calms physical nervous energy (skullcap) Calms hot temper and inflamed attitudes (chamomile), Aids digestion and provides delicious flavor (spearmint)
Sweat it out Tea: When you feel a low grade fever and you want to encourage your body to turn up the heat and stop the replication of an immune system enemy that has made it past your innate immune system. Elderflower, Yarrow, and Hibiscus
Adrenal Relief Tea: any of these herbs can be used to support adrenals. Adaptogens are always a good idea because they help your body more properly respond to stress. You can get adaptogens in powder here, or use any of the following: Schisandra (berry flavor, great with mint), Eleuthero (woodsy flavor, would pair with aromatic herbs and mint), Tulsi (great by itself or add a sprig of rosemary for brightening the mind and increasing focus and memory)
Nourishing Herbal Infusion: 1 oz herbal blend of your choice, 1Quart filtered hot water. Pour water over herbs and let steep overnight. Strain the next day and drink room temp or pour over ice. This allows all the benefits of the herb to transfer and makes the tea more medicinal.
We are confident this little ritual, using plants as medicine and taking a little sliver of time will improve your overall health. Let us know how that first cup turns out.
Have a healthy and happy day, y'all!